Read About the
Number One Solution

in America for Emotional Support Animals

Approval

Welcome to the DOGtor! Our team is ready to offer a simplified approval process for people who need an Emotional Support Animal. In other words, this is the website you should visit if you love your pets and can't live without them.

We take care of all of the tedious paperwork that comes with proving that your pet is an Emotional Support Animal.  In fact, your job is rather simple. You simply take our online examination from the comfort of your home and wait to hear back from one of our licensed mental health professionals or physicians.  They will do a thorough evaluation of your answers and let you know if they are willing to prescribe an animal of your choosing as an ESA.  

Long gone are the days when you had to dedicate a few hours or, even days, to talk to your therapist or primary care physician regarding your Emotional Support Animal (ESA). And, as many of you know, these discussions sometimes ended with the refusal of considering your pet  as an ESA, simply because they didn't believe in this kind of therapy or because they were not setup to verify your emotional support animal.

Since the DOGtor is ready to assist you with this process, these are just bad memories now! We deliver fast approvals because we know how important an ESA is for persons with emotional/mental disorders. Our team of licensed and experienced physicians believes in this therapy and is happy to prescribe an ESA for you, assuming that you establish in the online exam to have a qualifying condition.

Apply today for an ESA and enjoy its healing presence! Fight the "no pet policy" with the help of the DOGtor!

Don't wait another minute and Take Your Online Medical Exam today! This exam is the only step you have to take to get your ESA approval within 24-48 hours, or same-day depending on your situation. To clarify, you just have to meet at least one of the qualifying conditions mentioned in our online exam, and our physicians will know that you need an ESA by your side for a peaceful, serene and happy life.

Whether you need your ESA to fly with you in a commercial aircraft or live with you in a rented house/apartment, we can make this possible! Our physicians know the difference that an ESA can make in your life.

According to the The Fair Housing Act and the Air Carrier Access Act, "no pet policies" don't apply to Emotional Support Animals. This means that, as long as you have a letter issued by a licensed medical professional, which attests that your pet is an ESA, and you need its presence as part of your treatment, then the letter itself will effectively overturn any no-pet policy.

Get Your ESA Approval Now! Your pet is one click away from becoming an ESA! Count on our physicians to make your life easier and stand up against "no pet policies"! Take the online exam today!

Because You Need Your Pet to Be Happy!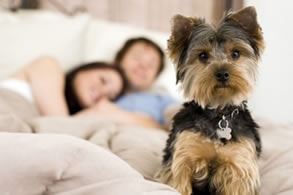 Get Approved In 30 Minutes Or Less!
You or your loved one
COULD
qualify in as little as 30 minutes to be approved for an emotional support animal.
Take our

risk free

medical evaluation! Get instant approval!

100% refundable

if you do not qualify!
How It Works
Take the Online Exam

All persons who need an ESA prescription have to first take this online exam. The exam has 74 questions and it takes about 15 to 20 minutes to finish it. Make sure you dedicate this amount of time to taking your exam because you can't save it and return to finish it later. Click here to start your exam!

Make the Payment

Potential patients should keep in mind that if the evaluating medical doctor does not feel comfortable writing you a prescription for an emotional support animal, then you will receive a same-day refund. Refunds are granted only to those who are not approved by the evaluating physician.

After completing your online exam you will be required to make a payment and choose a treatment plan that best applies to you. If you need an ESA letter for housing, please choose the housing plan. The entry level housing plan is called the "care plan" and is 159.00. If you need a letter only for travel, then please choose the travel plan for 149.00. If you need documentation for both, you will need to select the Compassion Plan for 199.00, which will cover both travel and housing. Regardless, you must submit payment at that time or your exam will not be processed.

Wait for the DOGtor's Review

The Dogtor reviews your exam & you'll receive a notification within 48 hours if approved or not. Approval is typically the same day on a normal work week. In the event that the Dogtor needs to do a further evaluation he may want to speak to you over Skype. However, it's very rare.

Get your ESA Approval

All individuals who have submitted an online exam will hear back from the evaluating physician within 24-48 hours. The doctor will email you from this or her personal email address to the email address that you have on file, so please make sure to check spam folders and wait patiently for the correspondence from the M.D. A doctor may ask you more questions about your exam so please be prepared to provide further details if they want more info in order for them to make an informed decision. Usually these questions are about asking for more clarity or that you have been vague in answering a specific question.

As stated in Step 3, if the doctor does not approve you, you will receive a same-day refund. However, in the event that you are approved, you will receive your emailed PDF copy of the prescription letter typically on the same day you receive approval.
Emotional Support Animal Prescription Needs